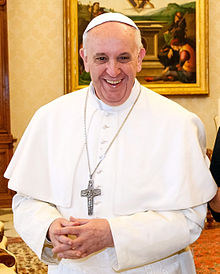 Young Heart
< To Youth> You bring us the joy of faith
and you tell us that we must live the faith
with a young heart,
always, a young heart even at 70 or 80!
With Christ the heart never grows old!
Pilgrimage Wrap-up Archbishop Lori, in his article this week in the Catholic Review reminisced about the "young people with whom I had the privilege of walking on Palm Sunday eve, stopping for a holy hour, praying the rosary, attending a concert, and celebrating the Palm Sunday liturgy at the Cathedral of Mary our Queen. How urgent it is for the church to continue reaching out to our young people and inviting them into the church's life."
> Check it out again – the Catholic Review report on the Pilgrimage. Note that a video report has been now added to the article and slide-show that you may have already seen.
> Thanks to all those who contributed over 400 pairs of shoes to Share Your Soles.
> The 21st annual Pilgrimage will be April 12, 2014. Our featured performer will be Jackie Francois who will also be keynoting NCYC in November. Watch and share this promo video.
Annual Recognition Celebration: We are pleased to announce that Becky Clark, Dr. Kristin Witte (Medal of Honor), Fernando Cartagena, Phyllis & Michael Middleton, George & Doreen Rothmann, Amy Stuempfle, and Christopher Wesley (For God and Youth), these co-workers in the vineyard of the Lord will be recognized at the ARC on Thursday, May 2 at St. Agnes. Deadlines are quickly approaching for adult Volunteer of the Year and youth Eagle of the Cross (April 10); and reception reservations (April 22). forms
Men in Black: On Friday, April 12 at 7pm, the Men in Black (Priests & Seminarians) will play basketball at St. John's Catholic Prep against the teens from the area parishes. Come enjoy a great basketball game and halftime activities in support of vocations to the priesthood and consecrated life! For more information here, or call the Vocations Office at 410-547-5426, or email [email protected]
Pray and Play: The Association of Professional Youth Ministers will host their annual Pray and Play day on April 18.
Scouting: The Annual Scout Retreat will be held on May 3-5.
Challenge Day: The Navy Seal Challenge Day will be held on May 4, 2013 at Loyola University Fitness and Aquatic Center. Flyer Cover Letter
Summer Opportunities: Registrations open next week for our JAW or High School Leadership Institute week-long trainings. Who from your parish or school would benefit from these programs?
Hyperlinks to Use: Catholic News Service recently released a six-minute video that offers perspective on the Papal Transition between Benedict XVI and Francis. (Cardinal Edwin O'Brien contributed to the video.)