December 13, 2012                                                                                                          Vol, 3, No. 19
WHAT YOU WILL FIND ALONG THE WAY:
► Rejoice ► Pope's Message to Young People ► Mid-Atlantic Congress ► March for Life ► Bosco Day ► In the New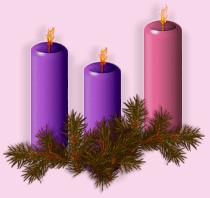 Year ► Hyperlinks ► Office Closed
REJOICE
Brothers and sisters: Rejoice in the Lord always.
I shall say it again: rejoice!
Your kindness should be known to all. The Lord is near.
From this weekend's second reading
CALENDAR:

JANUARY

25 March for Life
31 John Bosco Meeting

FEBRUARY

16 Cornerstone
21 Budget Webinar

MARCH

1-2 Micah 6:8
7-9 Mid Atlantic Congress
9 O'Dwyer Bull Roast
11 MD. March for Life
19 ConstitutionsVat II – Pt 1
20 ConstitutionsVat II – Pt 1
23 Pilgrimage

APRIL

9 ConstitutionsVat II – Part 2
10 ConstitutionsVat II – Pt 2

MAY

2 Annl Recognition Celebrtn

JUNE

7 O'Dwyer Rally & Auction

JULY

7-12 Justice Action Week
7-13 High-LI
24-28 World Youth Day

NOVEMBER

9 O'Dwyer Annv. Gala
21-23 National Catholic
Youth Conference

POPE'S MESSAGE
TO YOUNG PEOPLE

   Recently, Pope Benedict released a Message of His Holiness Benedict XVI for the Twenty-Eighth World Youth Day which will occur during this upcoming summer.
   While the message is directed to young people, it can be suggested that the Pope is setting a vision or direction for those who serve with the youngchurch as well. In the opening remarks of this message, the Holy Father clearly connects this message with the Year of Faith as well as the recent Synod of Bishops devoted to "The New Evangelization for the Transmission of the Christian Faith."
  It is an important read for those involved in youth and campus ministry. We have a print copy available for you with some discussion questions to be shared with your pastor, PLD, and/or principal.

MID-ATLANTC CONGRESS
An offer went out earlier this week regarding some scholarships for those taking advantage of the early bird registrations (deadline tomorrow! Contact Scott) for the Conference. Also, a listing of workshops that have implications for youth ministers and campus ministers was also made available. Please plan on participating in a national-level conference available in your own backyard.

BOSCO DAY
Our second Annual John Bosco Day will occur January 31, Father James Greenfield will facilitate conversation regarding Doing Youth Ministry Like a Saint as well as addressing some of the Healthy Tensions in our ministry. The day runs from 9:30 to 2:45 at St. Michael, Mt. Airy.

FOR LIFE:
We have not yet received tickets from Washington DC, but have obtained reservations on 1300 tickets. If you would like tickets to the Youth Rally and Mass for Life, you can still contact the office, but we will be placing you on a waiting list. If you have tickets reserved, but do not believe you will be able to use all of them, please let our office know so these seats do not go un-used.

IN THE NEW YEAR:
  Youth Leadership and Training is on the agenda early next year with Cornerstone February 16, Micah 6:8 on March 1-2.
  The 20th annual pilgrimage, themed We Walk By Faith, will be March 23rd… The committee has designed activities along the walk that honor the previous 19 walks as well as innovate some new opportunites. Registration forms will be available early in January.
  Please reserve May 2 for the combined Eagle of the Cross / Annual Recognition Celebration. Details and nomination forms will be available early in the new year.
HYPERLINKS
► Following his own advice about reaching out to the "digital continent" in his WYD Message mentioned above, the Pope showed up on Twitter yesterday!
►The NCCYM conference is over, but hand-outs and powerpoints can be found attached to the workshop listings. (Look through all the sessions) Also, Popple did a great job of mashing-up sacred and secular music.
OFFICES CLOSED
Our offices will be closed throughout the entire week of Christmas and will reopen on January 2. Please have a blessed Christmas and a Happy New Year celebration.