This is our third week in crowd-sourcing a new direction in youth ministry. Start here and play along. Previous Post: Choose Grace
In challenging economic times, lavishing graceful attention might just the game changer, allowing for one generation to provide for the next generation. John Bosco, a patron saint for young people because of his dedicated service to them, would suggest that the experience of God's love 'comes before' the experience of the individual. Therefore we should always be conscientious not to attempt transplanting God into the next generations. Faith is not something to be poured into kids from the font of our own knowledge, ecclesiology, faith, or experiences. Rather, we must recognize all individuals regardless of age for their own dignity as God's creation. Seek to collaborate with them in discerning the grace of their God-encounters. This new generation, the one that often claims to be "spiritual, but not religious" already has "God-stuff" well within their psyches. God is already present within them, and you can help them realize it by lavishing the right type of attention!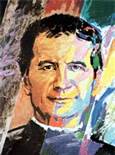 The experiences of John Bosco's early ministry days have similarities to what is occurring presently in many youth ministry efforts throughout the Church. His initial meeting places involved walks to country picnic settings because there was no other place to meet. When space for his Oratory was eventually established, it was initially short-lived. Complaints were lodged against John Bosco, declaring his community to be a nuisance. This was due to the perceived character of the boys he befriended. They were forced to return to the fields, and eventually set up a rough shed on the site. From there, it grew and flourished, creating an Oratory that had approximately seven hundred members. Think of the numbers of young people that may feel they are being cast out into the field, and not welcome elsewhere. It's staggering, and we need to ensure that every young person understands their value. Let them know that they are welcome in the Church, and have value in your eyes, just like they do in God's eyes.
In his book, Hurt: Inside the World of Today's Teenagers, author Chap Clark claims that today's adolescents have largely been abandoned by adults and left on their own in an unsure world. "As society began to unravel [in the 1960s and 70s], adults found themselves trying to find a safe place, a haven of security and rest."
As adults waged their own battles for emotional and relational survival, investing in others took less of a priority. The result? "This in turn spilled over into the developmental longings of adolescents. …This rejection, or abandonment, of adolescents is the root of the fragmentation and calloused distancing that are the hallmarks of adolescent culture."
As a Church, this is a time to lessen the cultural gap between generations, and lavish attention and affection. It is a matter of the heart. "If you have the confidence of the young," claimed John Bosco, "they will do anything for you."
We must achieve gaining the "confidence of the young", and the "confidence of the Church". This is done by encouraging adults to make the risky choice of inviting young people out of their fields of disassociation. They are waiting, and wondering if it'll ever happen, and if you are even going to attempt an effort to "get them". Youth ministry leaders must serve as effective advocates for this change, and it all starts with making space in the Church, and providing a home for the head, heart, and hands of the next generations.
For Discussion:  Is it possible the within our Church we have abandoned or distanced ourselves from the younger generation? Can you describe how? Please comment below with your critique clarifications, and responses.
Next: Witness Before All