I wrote this Wednesday as I was growing increasingly sick, sent it out automated on Thursday, and am finally getting around to posting it today while recovering at home.
TWO MINUTES
November 1, 2012 Vol. 1, No. 14
DO YOU HAVE TWO MINUTES ► to reflect on distress and saints? ► to check into an international on-line youth ministry conference? ► to prepare for World Youth Day? ►to get the latest update on the Youth Rally and Mass for Life? ► to check on deadlines for the Mid-Atlantic Congress? ► to check some good hyperlinks?

Happy All Saints Day! Today's readings speak of those who, "are the ones who have survived the time of great distress." For those who have made it through Superstorm Sandy (or are still suffering from the after-effects), know that we believe that you share in the makings of the Holy ones. For all that you do in living out the Beatitudes with today's youngchurch, may you share in the claim of being God's children no matter if in good weather or within the storm.
ON-LINE CONFERENCE
ReBuild My Church meets on-line on Tuesday. Hope that you join Mark Hart, Erin Kinsella, Michael Marchand, Dr. Charlotte McCorquodale, Mike Patin, Bob Rice, and Morgan Schmidt for this virtual conference!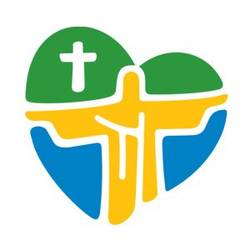 WORLD YOUTH DAY
► A young adult trip to Rio de Janeiro is being planned by Resurrection of our Lord and OLPH in Ellicott City. Please pass along this flyer to those 18 to 35 years old.
► We are pleased to announce that we are in the final stages of contracting with the Josh Blakesley Band for our own domestic vigil to be held July 27-28 at Mount Saint Mary. In addition to composing and recording music, Josh has led music for over 15 years at various Steubenville Youth Conferences throughout the U.S and has worked extensively as a musician with Life Teen International and Catholic Heart Work Camps.
MARCH FOR LIFE.
We have been promised additional seats for the Youth Rally and Mass for Life. This is due to a change in venue. The Verizon Center is still in use, but the planners have changed the alternate setting from the DC Armory to the University of Maryland Comcast Center which has more seats. At this point, we still do not know the amount of tickets we will be allotted or to where, BUT if you would like to have your group added to our waiting list… it would seem likely that you would get your requested amount of tickets. Contact Susan.



MID-ATLANTIC CONGRESS
Over 75 of the best speakers on Catholic leadership will be at the Baltimore Hilton Hotel on March 7-9 for the Mid-Atlantic Congress. While that seems like a while away, the early registration deadline is approaching, December 15.
HYPERLINKS WORTH CHECKING
► Young people are invited to participate in a video contest by January 7 on a topic found in the YOUCAT or on an individual or an organization spreading goodness in the world. There are some great prizes. Check on the details at Goodness Reigns
► Is Youth Work too centralized? Adam McLane suggests that it is.
► Jesus may be the Way, Truth, and Life for you, but did you know His name is also a popularly used password as well?
Please include in your prayers tomorrow all those souls who have preceded us on the way of our service in Catholic Youth Ministry
D. Scott Miller