This is our third week in crowd-sourcing a new direction in youth ministry. Start here and play along. Previous Post: The Risky Choice of Inviting
Those who lead youth ministry often feel as if they are ministering out of an improvised scarcity. They might feel overly and singularly burdened with all responsibilities of the ministry. Yet, leadership in ministry is not meant to be exploited for power or position as much as it is meant to be lavishly shared. In Numbers 11, The Lord told Moses to go get "seventy of the elders of Israel, men you know for true elders and authorities among the people, and bring them to the meeting tent. When they are in place beside you, I will come down and speak with you there. I will also take some of the spirit that is on you and will bestow it on them, that they may share the burden of the people with you. You will then not have to bear it by yourself."
The amount of adults committed to the Church's involvement with youth must grow beyond seven or seventeen. The greater the number of adults blessed with the gift of participating in youth ministry, the better it shall become. The Scripture suggests seventy, however, larger Church communities may require many more than that depending on their size. It's a process, and while one individual may be the foundation they will realize that they need others to truly keep growing. To celebrate young people home into faith and Church, we need to lavish attention upon them within our community home of Church.
You may be wondering what the spirit and burden of youth ministry is. It always has been, and still remains relationships. Effective ministry with adolescents is built on relationships. The example of the Lord's ministry provides a model of the impotence of relationships and of discovering God within them. It is in relationships that the possibility of modeling discipleship for each other exists, creating a meaningful and fulfilling lifestyle.
In the movie, Shall We Dance, one of the characters, Beverly Clark, describes her own rationale for marriage in a way that compares to how one can discuss relationships in a ministry. Beverly says, "We need a witness to our lives. There's a billion people on the planet…I mean, what does anyone life really mean? But in a marriage, you're promising to care about everything. The good things, the bad things, the terrible things, the mundane things…all of it, all of the time, every day. You're saying 'Your life will not go unnoticed because I will notice it. Your life will not go un-witnessed because I will be your witness'."
We all need witnesses, not only to be involved in the lives of young people, but witnesses who are involved in the life of the Holy Spirit. That is why we are called to "be his witness before all to what (we) have seen and heard." (Acts 22:15). The Lord always has remained, and will always remain faithful in His relationship with each one of us.
Dr. Christian Smith of the National Study on Youth and Religion has suggested that the more adults involved in the trajectory of a young person's faith, the more likely it is that a young person will continue along the path of faith later in their life. It is no longer a task for parent alone, and it is not meant to be the sole responsibility for the youth worker either. It's a collaborative effort.
The standard practice has been to recruit adults in anticipation of filling a proper quota for the ratio of young people we anticipate to serve compared to adults. I grew up with a Boy Scout sensibility that there should be one adult for every ten young people present, but times are changing. Chap Clark has been suggesting that it is time to reverse the normal adult to student ratio in youth ministry, and be inspired for more.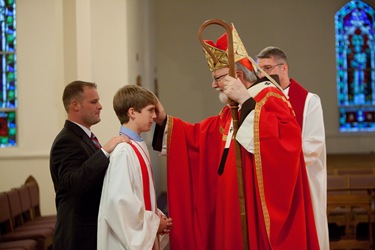 What if we started working toward involving at least five people into the lives of each young person? That may seem impossible, but remember that we already have their parent(s). Have we engaged them as collaborators? It was talked about in the previous chapter, but without action you'll find yourself at a stalemate. Many of the young people you wish to serve also have Baptismal Godparents and/or Confirmation Sponsors. What if we stopped treating these ministries as something more significant than just a title or a filled role for a ceremony? It would be a start, and an amazing one at that.
Clark's suggestion is an inspiring one—a call to grace-filled lavishing of attention, guidance, and care on our next generation. It strikes one that the future of the Church depends upon an unavoidable commitment of our fullest efforts with young people. Does not the next generation deserve that commitment from us in faith? Yes…yes they do!
For Discussion:  Do we have enough adults involved in the lives of young people to impact the culture that surrounds them? Please comment below with your critique clarifications, and responses. <image source>